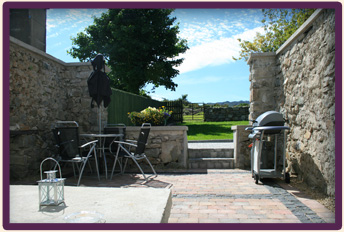 back patio garden & view of Errisbeg Mountain
Spacious townhouse in centre of Roundstone Village
3 bedrooms, sleeps 6
Kitchen, dining room, patio garden, living room
Easy access to pubs, beaches & playground
A quiet and roomy haven at the upper end of Roundstone Village, our self-catering townhouse offers easy access to western Connemara, with the pubs and shops of Roundstone literally at your doorstep.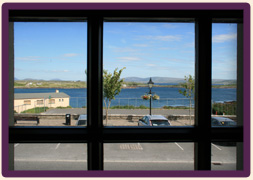 bedroom view of Roundstone Bay & Inishnee
3 cosy bedrooms for up to 6 friends or family
large kitchen-dining room with mod-cons
Roundstone Bay House offers a perfect blend of relaxation, privacy, and the excitement of staying in the heart of a buzzing Irish seaside village.
Your home for the week has all modern conveniences—fridge, freezer, dishwasher, electric oven & hob, oil-fired cooker, microwave, laundry room, satellite TV, DVD, and even a gas BBQ in your own private patio garden!
After a day exploring the breath-taking Connemara landscape or drinking pints & swapping stories with the locals, you can relax in comfort and rustic style. 3 warm and cosy bedrooms (2 double, 1 twin), living room, bathroom with shower, and a large kitchen-dining room give you & your guests plenty of space to relax & recharge.
Roundstone Bay House is available year-round for weekly rental with weekend rates as well. Bed linen and towels are provided, as is a welcome pack to get your self-catering experience started. Please, no smoking inside the house and no pets.
To book your stay at Roundstone Bay House Self-Catering Townhouse, ring us on
+353 (0)95 35915,
email info@rushlakehouse.com,
or use our online contact form. An authentic Irish welcome awaits your arrival!